Popular Filipino breakfast "Tapsilog"
Tapsilog is a popular Filipino breakfast comprising tapa (dried meat), sinangag (fried rice) and itlog (egg).
Tapsilog is a meal composed of Filipino beef jerky, garlic fried rice, and fried egg. The name was derived from the ingredients. Tapsilog can be eaten as meal at other times of the day but is most favored at breakfast.
The meal is commonly consumed during breakfast. However, it can be consumed anytime of the day or night. due to the existence of several eateries (these are known as Tapsihan or Tapsi House) and/or restaurants serving this food. There are even 24-hour eateries that serve Tapsilog along with other delicious dishes such as Tosilog, Arroz Caldo, and Goto.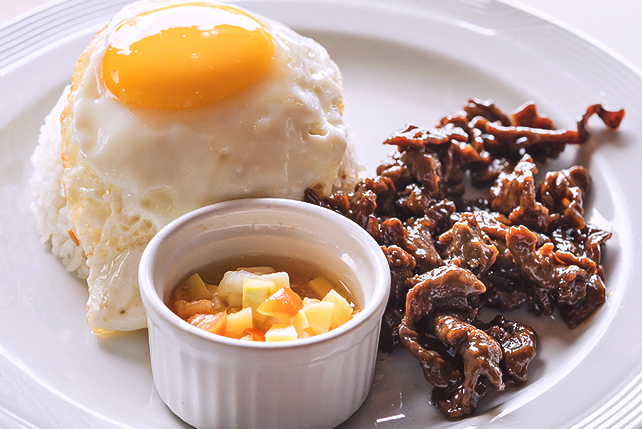 Image by SpotPh
This Tapsilog recipe is a combination of our homemade beef tapa recipe and sinangag recipe. I think that most of you does an awesome job in frying eggs, so I did not cover the "How to fry an egg" part.
I am a big fan of Tapsilog; I think that I mentioned this before in one of my post here. The best Tapsilog – as far as I am concerned – is the one with tapang kabayo (horse meat).
TAPSILOG RECIPE
Ingredients
1 1/2 lb. beef tapa
4 cups sinangag garlic fried rice
4 pieces fried eggs over easy
Spiced vinegar sinamak or pinakurat

Instructions
1.) Arrange 1 cup sinangag, a quarter of the beef tapa, and piece of fried egg in a plate.
2.) Serve with spiced vinegar and ketchup.
3.) Share and enjoy!

Video by riamcel17







Source: Wikipedia
Popular, Filipino, breakfast, Tapsilog, Food & Drink, #ophirph