Experience Sweet Delicious "Maja Blanca"
Maja blanca (Tagalog: [ˈmaha ˈblaŋka]) is a Filipino dessert made primarily from coconut milk. Also known as coconut pudding, it is usually served during fiestas and during the holidays, especially Christmas. Maja blanca has the consistency of thick gelatine and a delicate flavor, and is creamy white in color.
As the name suggests, the dessert is of Spanish origin, adapted from the traditional holiday dessert manjar blanco, and is thus related to other similar desserts such as blancmange. The name means "white delicacy". Maja blanca is also known as maja blanca con maíz, maja maíz, or maja blanca maíz when corn kernels are used in the preparation (maíz is Spanish for corn).
Maja blanca is relatively easy to prepare. A coconut milk (not coconut cream) and cornstarch mixture is heated to boiling over a low flame while stirring. Agar (gulaman in Filipino) can be substituted for cornstarch. Corn kernels, milk, and sugar are also often added, though these are not traditionally part of the recipe.
Once the mixture thickens, it is then poured into serving dishes previously greased with coconut oil and allowed to cool. Once firm, latik (browned coconut cream curds) are then sprinkled as toppings.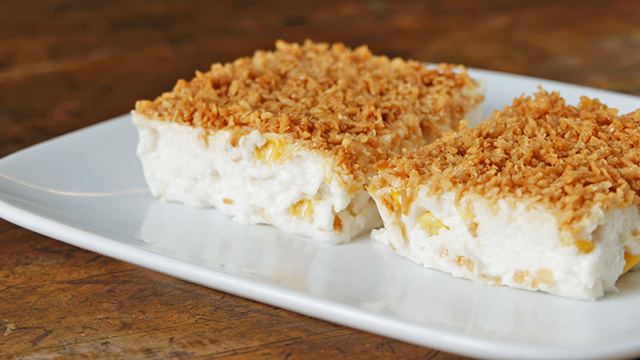 Image by alchetron
It is also often refrigerated and served cold to improve the texture.
Maja blanca is similar in texture to panna cotta, but the flavor is different due to the coconut milk.
The corn kernels and latik are used to add different textures to the maja blanca, which, by itself, usually has a creamy texture.
Maja blanca can easily be adapted to include various other ingredients, often resulting in changes in the color of the dish. Examples include squash maja blanca which uses calabazas (Filipino: kalabasa) and a version of maja maiz that uses butter, resulting in a distinctive yellow color.
Other common variants include maja de ube (or maja ube), a deep purple variant of maja blanca which uses ube (purple yam); and maja buko pandan a light green variant which is flavored with pandan leaves and coconut meat.

Image by emz-corner

MAJA BLANCA RECIPE
Ingredients
4 cups coconut milk
3/4 cup cornstarch
14 ounces condensed milk
3/4 cup fresh milk
3/4 cup granulated sugar
15 ounces whole sweet kernel corn
5 tbsp toasted grated coconut
Instructions
1.) Pour the coconut milk in a cooking pot and bring to a boil.
2.) Add the sugar, condensed milk, and whole sweet kernel corn then stir until all the ingredients are evenly distributed.
3.) Simmer for 8 minutes
4.) Combine the milk and cornstarch then whisk until the cornstarch is diluted
5.) Pour the fresh milk and cornstarch mixture in the cooking pot and stir thoroughly.
6.) Allow to cook while stirring until the mixture reaches your desired thickness
7.) Pour the mixture in a serving tray then arrange and flatten the top using a flat tool such as a wooden spatula
8.) Allow to cool down then refrigerate for at least 1 hour
9.) Garnish with toasted grated coconut (or latik if available)
10.) Serve cold. Share and enjoy!

Video by Panlasang Pinoy
Source: Wiki
Experience Sweet, Delicious, Maja Blanca, Food & Drinks, #ophirph